Socket Mobile, DuraScan D800- 1D Linear Screen Barcode Sled & Scanner
The DuraScan D800 is a durable linear barcode scanner with Bluetooth wireless connection, perfect for 1D barcodes. Users can scan barcodes printed on labels or displayed on screens. Designed for mobility, durability and lasting up to two shifts. The external rubberized material increases drop protection. Easy to use and attachable to a mobile device, it slips neatly into your pocket and fits comfortably in the palm of your hand, enabling one-handed operation. Ideal for retail point of sale, inventory management, sales order entry, field service, and other mobile business applications.
Certified by Apple® for iOS devices (iPad®, iPhone®, iPod Touch® devices) and compatible with Android and Windows®
NOTE: Not compatible with DuraSled Case.
D800 Features
Bluetooth Wireless Technology - Connects easily to a wide range of Bluetooth enabled smartphones, tablets, notebook and desktop computers [Compatible with iOS, Android and Windows devices with typical Bluetooth range of 10 meters (33 feet).]
Certified by Apple® for iOS devices – Guaranteed Compatibility - With CaptureSDK integrated in over 700+ applications, Socket Mobile scanners are one of the most natively integrated scanners available today. Socket Mobile Scanners are also 100% compatible with any application out-of-the-box in HID (keyboard emulation) mode.
Scanning - Reads all common 1D barcodes printed or on screens.
Size & Weight – Measuring a littler over ½ inch (16.76mm) thick and weighing 2.52 ounces (71.5g)
User Feedback - With audible tones, hand pulsation and Bluetooth indicators.
Long-Lasting Battery - Power to last over 16 hours.
One-Handed Operation – Attachable Klip included.
Durable Casing – Rubber material for increased protection from drops.
Protective Material - Made with antimicrobial material for protection against potentially harmful bacteria.
Application Integration – Socket Mobile's CaptureSDK enables easy integration in your applications to improve business productivity with fast, efficient and reliable data transfer over Bluetooth wireless technology.
Accessories - Klip, Charging Dock, Adapter and Multi-Charger (sold separately or in a bundle)
Designed and Assembled in the USA
Developer Support Available
1-Year Warranty - Barcode Scanner
90 Day Warranty - Charging cables, wrist straps and batteries purchased separately
D800 (charger sold separately) includes
D800 barcode scanner
Klip
Wrist Strap
1 year limited Warranty on DuraSled barcode scanner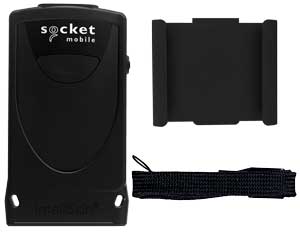 D800 with Charging Dock includes
D800 barcode scanner
Klip
Charging Dock
USB Charging Cable
1 year limited Warranty on DuraSled and charging dock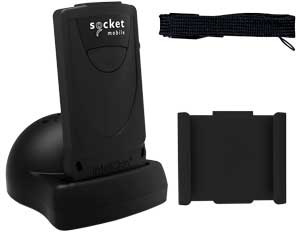 D800 with 6 Bay Charger includes
D800 barcode scanners (6 x D800)
Klip (6)
6 Bay Charger
USB Charging Cable
1 year limited Warranty on DuraSled and 6 Bay Charger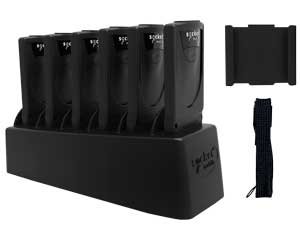 Standard Limited Warranty:
Product SKUs
CX3553-2182 - D800 (charger sold separately)
CX3556-2185 - D800 with Charging Dock
CX3550-2178 - D800 (6 units) with 6 Bay Charger (NA & Japan)